1990-1992
Certified from the beginning: Fair Wage &
Labor Practices (Germany, India, USA)
We didn't want to create problems (social or environmental) when introducing a solution
for the single-use plastic bag problem. We knew there was a better way to treat people
and the planet while still making a profit.

1990
Cutting down on waste: reusing
corrugated cartons for shipping.
Waste not, want not. We incorporate re-use into every step of our operations,
from the very beginning while creating durable products made to last.
1990
Plastic-free packaging and recycled
paper stock.
How can we inspire others to "be the change we want to see" if our packaging includes
plastic? While we continue to evolve our plastic-free journey, the conversation around
plastic waste is still limited.
"If it can't be reduced, reused, repaired, rebuilt, refurbished,
refinished, resold, recycled or composted, then it should be
restricted, redesigned or removed from production."
Pete SeegeR Folksinger, Activist, Hero, Founder Hudson River "Clearwater" Organization
1992
Switches to eco-friendly, AZO-free dyes
and custom printing leveraged PVS and
phthalate free inks.
Even before there were laws to remove these chemicals, we were working with our
suppliers to find the best, zero toxic products.
1995
First to introduce totes and string
bags in certified organic cotton.
2002
The first plastic bag ban in the world. This is where the conversation around single-use
plastic really starts to pick up!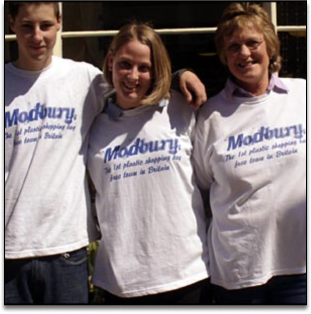 2007
First to introduce recycled cotton
across all products.
2010
We always practiced "people, planet, profit," as well as purpose. From the beginning,
we knew if we built a business on those principles, the profit would come. So when we
found the B-Corp community, we knew we were in good company.
2019
Repacks bags to reduce waste.
This was another great way to reduce and/or eliminate our use of single use plastic in
our packaging.
2020
Begins transition to only organic and
recycled fibers
When we originally introduced organic cotton in the USA in 1992 we did it to start the
conversation on low impact fiber sourcing because noone was talking about it. We
added recycled fibers shortly after. Now more people are aware of the importance of
clean supply chains. We're proud we helped to spark this awareness.
april 2022
Introduces (BIRLA) Cellulose—a low
impact tree fiber.
Our Birla Cellulose is made from renewable wood sourced from sustainably managed
forests, and is 100% biodegradable (just like our 100% cotton bags). These fibres are
moisture absorbent, have a soft feel, and are manufactured using a closed-loop process
and environmentally efficient technologies that recycle raw materials and conserve
natural resources.