Gauze Produce Bag - 3 Set.
ADD 100+ OF THE SAME PRODUCT TO RECEIVE AN ADDITIONAL 33% OFF!

NO CODE NECESSARY

DISCOUNT WILL BE AUTOMATICALLY APPLIED @ CHECKOUT

Say goodbye to all those thin plastic bags and hello to our ultra lightweight cotton drawstring produce bags. Stay organized and reduce waste on your next trip to the grocery store or farmers market. Each pack comes with three sizes (small, medium, and large) so you can get exactly what you need without any of the waste. Plus, these bags are great for traveling, going to the gym, or even gift bags!

Each package contains 3 bags: Small, Medium, Large

Notes:
You must order in multiples of 10, e.g. 20, 30.
Wholesale orders will be reviewed and rounded up to nearest 10.
Price is per bag.

Item Code:

PRO-303-w

Case Pack Size:

10 sets of 3 bags

Bag Style:

Produce Bag

Material Type:

Natural Cotton

Material Color:

Natural

Closure:

Drawstring

Capacity:

See Notes for size of each bag

Care Instructions:

Machine wash cold, hang dry

Note:

Perfect for bulk items like seeds and beans and all types of produce •Handy for organizing •Eco-Friendly, lead free dyes •Recyclable as a textile •Fair Wage, Fair Labor Small Bag - 8" x 10" Use for: Beans, garlic, chills, cherry tomatoes, and limes. Scale Tare weight: Small Bag 0.25 oz or 7g Medium Bag - 11" x 13.25" Use for: Herbs, onions, avocados, lemons, and cucumbers. Scale Tare weight: 0.45 oz or 12g Large Bag - 13.5" x 17" Use for: Kale, lettuce, potatoes, zucchini, and broccoli. Scale Tare weight: 0.60 oz or 17g

UPC:

7-36133-81042-0
Login for pricing
request a quote
View full details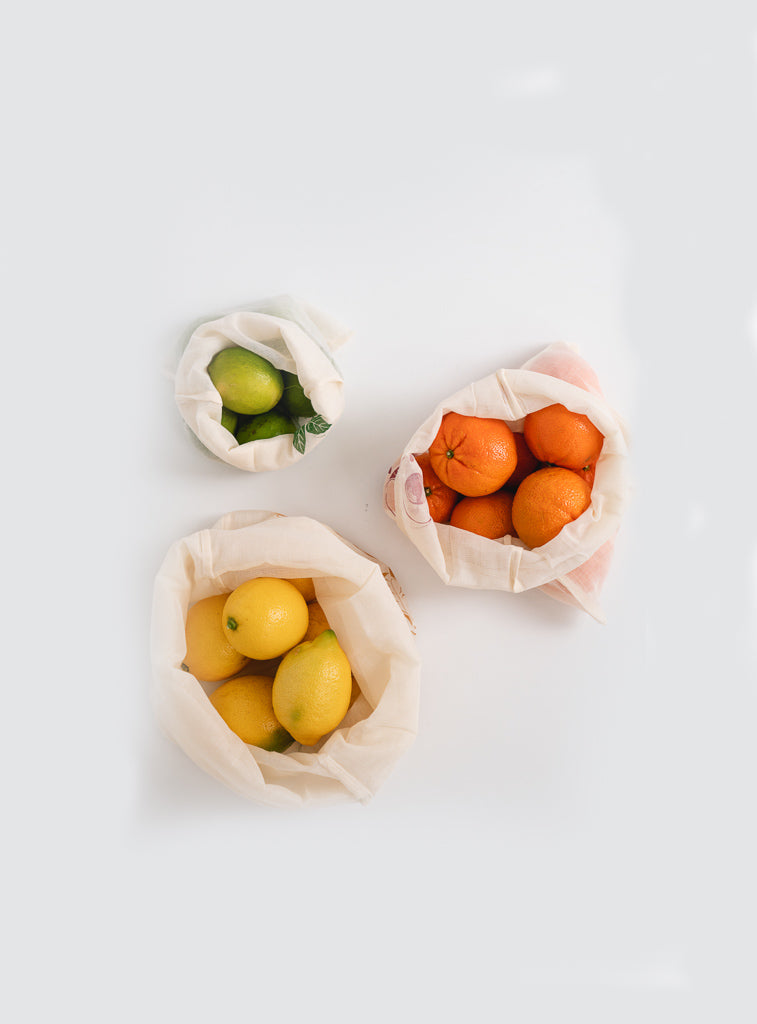 why we are different
Eco-Bags Products is a certified B Corporation. Our mission is to offer thoughtful, ethically and sustainably sourced, durable-reusable bags that allow people to reduce, reuse, recycle and re-imagine the world we live in. Our business choices are driven by two age-old sayings… "Leave no trace," and "Do no harm." Our guiding philosophy is our belief that everyone can make their own best effort to live lightly on the earth and live more gently with each other. We believe we can be agents of change and influence culture by generating & extending these conversations and producing goods to support this way of living.
Fabulous multipurpose bag!

"These little bags are terrific. Lovely colors and very thick and sturdy. Great retail price point. People buy 4 at a time. Fabulous multipurpose bag." - Raggamuffin, Ocean City MD
August 11, 2022
High quality product!

"High quality product! Super fast shipping! Very happy with ordering experience. Thank you!" - Caryn, Willamina OR
August 11, 2022
My customers go crazy for them!

"I love these bags myself, and my customers go crazy for them as well. Thank you!" -  anon
August 11, 2022
Great quality!

"Great quality, wonderful customer service and quick turn around! 10/10! I will be ordering again!" - Ariel, Rockland ME
August 11, 2022
LOOKING FOR MORE CUSTOMIZATION?
CUSTOM PRINTING
CO-BRAND FOR A BETTER TOMORROW.
MADE TO ORDER
TAKE ON THE REUSABLE REVOLUTION
Start your custom project today.